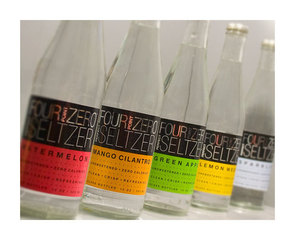 HOW DID THE FOUR POINT ZERO BRAND BEGIN?
Mark and Ronald Fiorina, founders and creators of Boylan Vintage Sodas, along with Scott Glovier, a beverage enthusiast (and Mark's former college roommate), now own and operate a bottling plant in Scranton, PA. In addition to bottling for over 30 national soft-drink brands, they were eager to be brand owners once again. The quality of the water in their bottling plant is second to none. Owning the facility affords them the opportunity to control the entire bottling process, overseeing every detail. Their long-standing reputation of being perfectionists has come through in Four Point Zero Seltzers.
WHY SELTZERS AND NOT SODA?
The negative attention given to calorie-laden drinks is beginning to take hold on what the consumer is purchasing. The health-conscious beverage consumer is now more educated than ever before on what is truly healthy and what is not. Even diet sodas, whether sweetened with Splenda®, NutraSweet® or Stevia® are being targeted by consumer awareness groups. Studies show that people who regularly drink diet beverages develop a craving for sweets and actually have a propensity to gain weight. With that said, the only healthy way to quench your thirst without any calories is with water or carbonated water, a.k.a. seltzer.

Four Point Zero has developed flavored seltzers where only natural essence and oils are used: all natural, unsweetened and zero calories. In addition to Lemon Wedge, which is our unique twist to the most commonly flavored seltzer, our Green Apple, Watermelon and Mango Cilantro flavors bring attention to the Four Point Zero brand as well as garnish the attention that this category deserves. We produce our seltzers in carefully crafted small batches and offer them in glass bottles which exemplifies our commitment to quality. Four Point Zero Seltzers can be enjoyed straight out of the bottle, on the rocks, or as a mixer to create an exceptional cocktail. Four Point Zero is the perfect seltzer: light, refreshing and more than just your average flavored seltzer - it's like drinking water, only better!

---